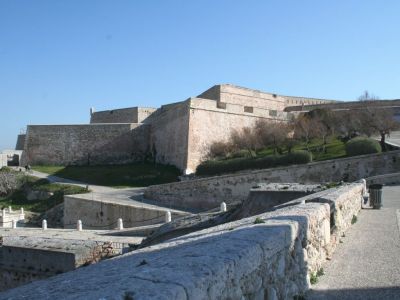 Fort St. Nicholas, Marseille
"Why are you pointing that gun at me? No, I mean guns, lots of guns pointed at the town, not out to sea. What will you do for an attack by sea? You're not afraid of Saracens, or Vikings, or the British?"

The year is 1664 and King Louis XIV has completed the Fort St. Nicolas in Marseille, and he's open for business. He's ready for anything. There's something odd, though. The citizens have noticed all those guns are pointed at the town, NOT the sea.

Mon Dieu! The neighboring fort, Fort St Jean, also is aiming at the town. And with good reason, from the King's point of view. The citizens of Marseille are in rebellion against the governor and the guns are a dose of reality.

During the 1700s the fort was used mainly as a military prison. During the revolution the people of Marseille finally had a shot at Fort St. Nicolas and they tried to sack it. However the Assembee National stopped the sacking after a month. Apparently the new government thought the fort/prison had its uses.

The fort was restored in the nineteenth century. The new parts are grey and this makes it easy to distinguish new from old. The old parts are red. The fort is also divided in two parts. The seaward part is garrisoned and used mainly as an officers mess. Only the landward side is open to the public. This is the higher part. The view is fantastic.
Walking Tours in Marseille, France