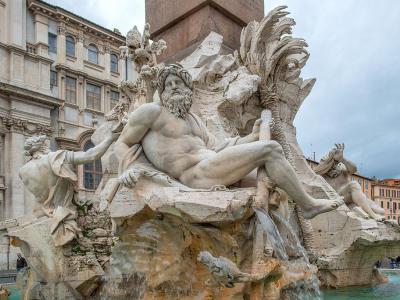 Fountain of the Four Rivers, Rome
(must see)
The centerpiece of Piazza Navona, the Fountain of the Four Rivers has been in place since the 17th century. While Rome's love affair with fountains, in general, goes back to the antiquity, during the Baroque era it took another twist in which Roman fountains appeared as a reflection of papal generosity. In the case of the Four Rivers Fountain, Pope Innocent X, one of the most politically astute Pontiffs, commissioned to the job one of the most innovative artists of the era – sculptor and architect Gian Lorenzo Bernini, the son of Pietro Bernini. The end result proved to be Rome's greatest achievement in the genre of fountain-making, delivering an emblematic piece replete with all the dynamic and dramatic elements sought by Baroque artists.

At the base of the fountain is a basin from the center of which rise the rocks supporting four river gods and, above them, there's an ancient Egyptian obelisk surmounted with the papal family emblem – a dove with an olive twig. Collectively, the four gods represent four major rivers of the four continents over which papal authority had spread by that time, namely: the Nile of Africa, the Danube of Europe, the Ganges of Asia, and the Rio de la Plata of the Americas.

The design of each god's figure is quite symbolic. The Ganges carries a long oar, representing the river's navigability. The Nile's head is draped with a loose piece of cloth, meaning that no one at that time knew exactly where the Nile's source was. The Danube touches the papal coat of arms, since this is the largest of the rivers close to Rome. And the Rio de la Plata sits upon a pile of coins, the symbol of America's riches.

Tip:
To capture this fountain on picture, one has to shoot repeatedly from different angles and positions, so as to get as much detail as possible.
Fortunately, there is plenty of free space around, so one should really just take their time to get a perfect shot... or two, or three...
The surrounding piazza is full of restaurants/cafes and excellent gelato places can be found.
Fountain of the Four Rivers on Map
Walking Tours in Rome, Italy
Useful Travel Guides for Planning Your Trip
---