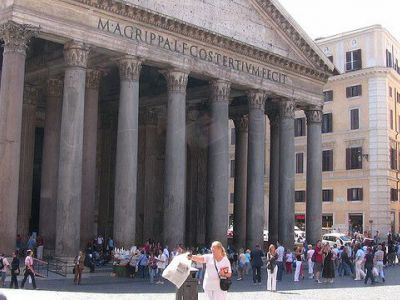 G. Rocca Cafe at Pantheon: Meeting Irving, Rome
Following Joe's encounter with Ann, as they meet while she indulges in gelato at the Spanish Steps, the two of them agree to embark on a holiday filled with simple pleasures. They envision sitting at sidewalk cafes, admiring shop windows, strolling through the rain, and embracing moments of joy and excitement. To fulfill Ann's first wish, Joe confidently declares, "I know just the place. Rocca's." This establishment, G. Rocca Cafe, can be found adjacent to the magnificent Pantheon, a structure dating back to 126 AD, precisely at the northwest corner of its facade.

Rocca's becomes the setting where Ann enjoys a unique breakfast experience, sipping champagne and encountering Irving Radovich, Joe's colleague and photographer. It is also the place where she tries her first cigarette. However, it's worth noting that Rocca's has since undergone a transformation. Located at the corner of Via della Rotonda, it is no longer a cafe but has evolved into a trendy Italian fashion store, boasting an extensive collection of denim. While its purpose has shifted, the location itself still holds the memories and charm of those enchanting moments shared by Joe and Ann.
G. Rocca Cafe at Pantheon: Meeting Irving on Map
Walking Tours in Rome, Italy
Useful Travel Guides for Planning Your Trip
---