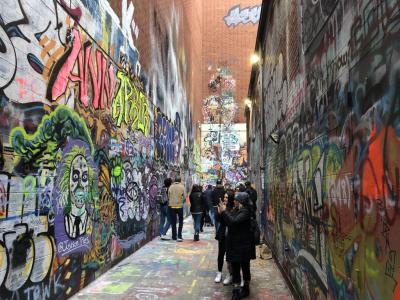 Graffiti Alley, Ann Arbor
Tucked away just off East Liberty Street in Ann Arbor, right next to Michigan Theatre, is a narrow alley densely covered in graffiti. This colorful alley, a unique place for artists and lovers of this media, emerged on the scene in 1999, when the artist named Katherine Cost first painted here a piece, called Infinite Possibilities. Sadly, that original work was defaced by other graffiti artists only a few weeks later. Still, the mark made by Ms. Cost lingers on, as the new artists continue to leave theirs, seeing this place constantly evolve.

The result is a pretty cool, if not say crazy, mixture of colors, messages and images perpetually changing, as time goes by. A hotbed for artists, Graffiti Alley is open for everyone to leave their statement for the world... literally, if only for a week or so, till it gets painted over by something else. This, in turn, makes it ever more interesting to explore.

The spot may well not be too much publicized, but it is popular nonetheless. People simply cannot help stepping in to check it out whilst passing by. If you wish to tag the wall, or snap a few selfies, or are just curious to see what's inside, don't be shy and pop in. Although open all year round, the alley is particularly packed during summer with those anxious to take selfies and photos for Instagram.

Indeed, Graffiti Alley is a new kind of art in the city that you don't want to miss.... Even if graffiti is not your thing, you may still have some ideas that may change your perspective. Plus it's free! So, it's a win-win all the same...
Walking Tours in Ann Arbor, Michigan