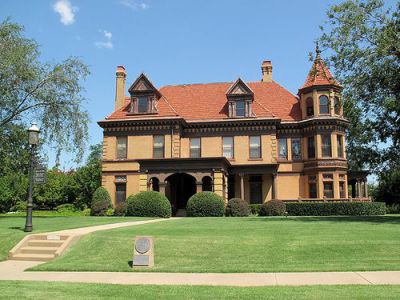 Henry Overholser Mansion, Oklahoma City
(must see)
The Henry Overholser Museum is a beautiful historical mansion dating back to 1903. Today, the Oklahoma Historical Society owns the home, and Preservation Oklahoma, Inc. manages the property. Henry Overholser and his wife, Anna, were responsible for the construction of this mansion. This property has been a significant historical site accessible to the public since 1972.

The mansion's exterior has seen full restoration to help preserve its historical character. Several of the home's chimneys, the roof, and the windows have also been restored, helping to preserve the property's unique character. This preservation is important for maintaining the house's condition because of its place in educating the public about Oklahoma City.

This home sits on land acquired during the Great Land Run in 1889. The architectural style is a unique mixture of Chateau and Queen Anne in a stunning Victorian setting. During the time the Overholser family lived in the home, it was a major center for social events. The interior and the grounds stand as a testament to the home's historical importance.

All tours of this home are guided and include the first floor only. Italian light fixtures grace the home's rooms and perfectly complement the period decor. Hand-painted ceilings are also a vital part of the decor. Belgian woodwork and French stained-glass windows are also popular features.

Visitors will also be able to see the original English carpeting and furniture that the family used, as well as a grand piano. The walls feature canvas painting, with ornate features. Touring this mansion is the perfect way to get a look into the past.

Why You Should Visit

Henry Overholser Mansion has beautifully preserved historical furniture and artifacts, and is an excellent example of a distinctive architecture for its time.

Tips

Take the time to look at the original paintings on display in the living areas.
Henry Overholser Mansion on Map
Walking Tours in Oklahoma City, Oklahoma