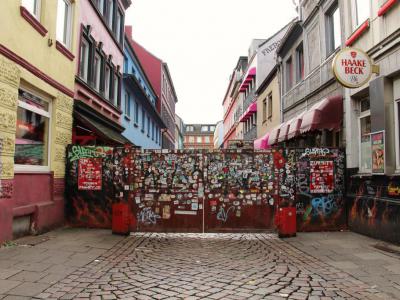 Herbertstraße (Herbert Street), Hamburg
Herbert Street is known as the most exclusive red-light area. City ordinances ban female visitors, and only men over 19 years old are permitted to walk the street. It is the only street in Hamburg where prostitutes sit on stools in storefront windows.

The street gained prominence in the 19th century when sailors docked at the Elbe docks and came to town to spend their earnings in the strip clubs and pubs surrounding the docks. Hamburg granted licenses for prostitution. In the early 20th century, brothels on neighboring streets lost their licenses, and Herbert Street became more and more popular.

Nazis banned prostitution in 1933. However, the ruling party was not able to stop it altogether, and Herbert Street was the only street in Hamburg where it was still tolerated. Barriers were placed at the ends of the street to hide the illicit activity.

Today, barriers warn underage men and women against entering the street. The ban on women entering the street is controversial and seen by some as gender discrimination.
Herbertstraße (Herbert Street) on Map
Walking Tours in Hamburg, Germany