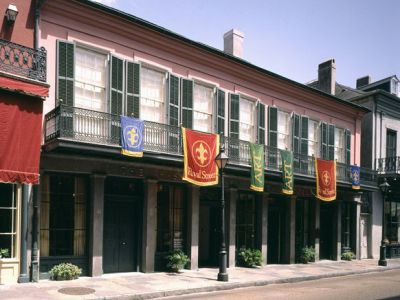 Historic New Orleans Collection, New Orleans
Tucked away among the art galleries on Royal Street in the French Quarter is one of New Orleans' most underappreciated attractions. Established in 1966 by passionate collectors General L. Kemper Williams and his wife, Leila, this cluster of buildings is dedicated to the preservation of the history and culture of New Orleans and the Gulf South region.

Entry to the site is free and the first building you'll encounter is the elegant Merieult House, designed in the Greek Revival style. Built in 1792, the house now houses the Williams Gallery, where you can explore rotating history exhibitions, as well as the Louisiana History Galleries–a series of 13 chambers that delve into specific periods of the state's history, from the French colonial era to the 20th century, showcasing authentic maps, books, furniture, and artwork.

As you explore the courtyard, you'll spot several other buildings, including the Spanish colonial-style Counting House and the three-story Maisonette, which now serve as administrative offices. However, one exception is the Williams Residence, an Italianate townhouse from the 1880s that the museum's founders occupied until 1963.

Guided tours of the Williams Residence, led by knowledgeable docents, last 45 minutes and provide a room-by-room look at how an upscale early-20th-century home would have been furnished. This includes various antiques, watercolors, and vintage maps of New Orleans, making it a must-visit for design and decorative arts enthusiasts. You can also opt for a guided architectural tour of the Royal Street complex's buildings and courtyards.

Tip:
While you're here, consider visiting the courtyard café and spending time in the impressive shop located in the Merieult House, staffed by knowledgeable experts and offering a wide range of items, from local novels and history books to vintage maps and iconic jewelry. Additionally, music enthusiasts will be delighted to hear the Aeolian organ, completed in 1926 and recently restored. It's a rare treasure for organ music lovers, as only four working models exist in the U.S. Be sure to check if it's included in one of the tours during your visit.
Historic New Orleans Collection on Map
Walking Tours in New Orleans, Louisiana