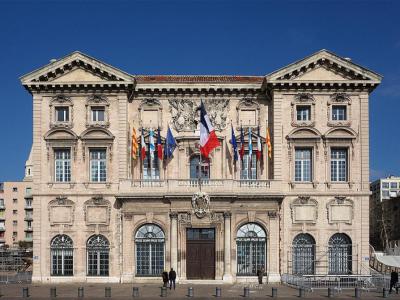 Hotel de Ville (City Hall), Marseille
The Hotel de Ville is, of course, not a hotel. It is the City Hall of Marseille. Built in 1656, it has been Marseille's civic center ever since. It replaced the "Maison de Ville", which had served the same purpose since the thirteenth century.

The Hotel de Ville is a pink stone building constructed in the Genoan Baroque style. It fronts the harbor's edge of the Old Port of Marseille. It has an ornate facade, designed by Gaspard Puget. The facade is adorned with sculptures and flags.

Above the main entrance is the seal of the city, designed by Pierre Puget, yes, Pierre is related to Gaspard. They were brothers. Pierre was a favorite of Louis XIV, so naturally there is a bust of his royal highness. He perches high above all else, overseeing the bustling harbor and the boulevard below.

The kings did not survive the 18th century. However the Hotel de Ville did survive. It survived regimes, revolutions (France has had more than one), and even World War II.

It is often referred to as "La Loge", from the Italian word "Loggia" because of it's Baroque style. Around the back of the building is a bridge connecting the two main levels of the Hotel.

In the 18th century the floors were disconnected to separate the nobility, who occupied the top floor, and the merchants and other lesser souls who used the ground floor. The bridge now reunites the classes, which is a sign of progress!

Operating hours:
Monday-Friday 8:30 a.m.-6 p.m.
Hotel de Ville (City Hall) on Map
Walking Tours in Marseille, France