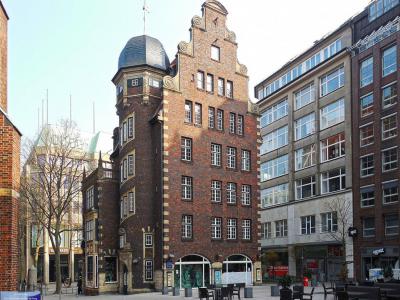 Hulbe-Haus (Pond House), Hamburg
Hulbe Haus is a former art trading house located on Mönckebergstraße, one of Hamburg's main shopping streets. Protruding into the street ahead of the adjacent, more contemporary buildings, it features a layered steeple topped with a golden cog. This is a symbol found across Hamburg and other Northern Germany port cities, like Hannover and Lübeck. Hulbe Haus is located in the centre of Hamburg's modern city centre, close to St. Petri church and the Showroom Bischofsburg. It currently houses a department store on its lower floors, in keeping with its fashionable surroundings.

The red brick Hulbe Haus building dates from 1910, and was built by Henry Grell. Its façade is in the Dutch Renaissance style. The building is also notable for its proliferation of 'Green Men' carved into sandstone blocks around the façade. 'Green Men' is the collective name given to these carvings of mysterious bearded men with contorted faces. Closely resembling an image of God seen in many Christian works of art, they have been sighted in Thailand and China, and some carvings are believed to pre-date Christianity. Hulbe Haus is a must see for hunters of 'green men' – there are over a dozen found on this ornate and unusual building.
Hulbe-Haus (Pond House) on Map
Walking Tours in Hamburg, Germany