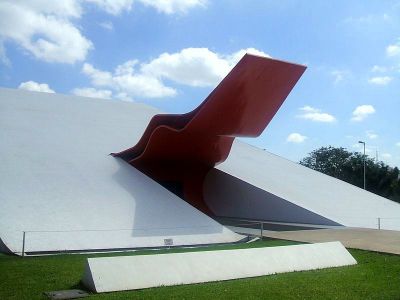 Ibirapuera Auditorium, Sao Paulo
Ibirapuera Park offers a wide range of attractions for music enthusiasts beyond the regular live band concerts. Situated within the park, the remarkable Ibirapuera Auditorium was envisioned by architect Oscar Niemeyer in 1950, but its construction in stone was completed only half a century later. This iconic venue has become one of the top tourist destinations in Sao Paulo, attracting visitors with its diverse musical events, breathtaking spectacles, captivating concerts, vibrant festivals (including the renowned "Batuka!" international drum fest), and even fashion shows.

Moreover, the Auditorium effortlessly transforms into a cinema theater, accommodating movie festivals and premieres. Its exterior is characterized by a striking combination of white and red colors. The distinctive trapezoid shape of the building is crafted using reinforced concrete. Inside, the Auditorium features three primary areas: the foyer, the stage, and the stalls, all adorned in a captivating shade of red. With exceptional acoustics and seating capacity for over 800 people, it provides an immersive experience for the audience. The underground level of the venue houses administrative offices, a music school, dining areas, dressing rooms, and other essential facilities. Additionally, the Auditorium frequently hosts open-air concerts and festivals, further enhancing its allure as a dynamic entertainment space.
Ibirapuera Auditorium on Map
Walking Tours in Sao Paulo, Brazil