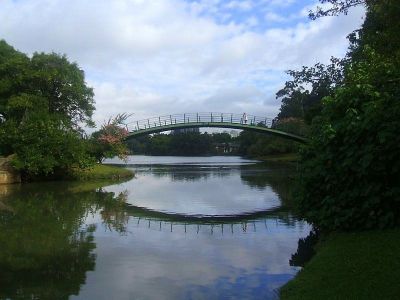 Ibirapuera Park Footbridge, Sao Paulo
The Ibirapuera Park Footbridge, located in Sao Paulo, is an attractive architectural structure within the sprawling Ibirapuera Park. The footbridge spans across a tranquil pond within the park, adding to its visual appeal. Its sleek design features a series of curved steel arches that rise gracefully above the water, creating an elegant and inviting pathway.

One of the most captivating aspects of the footbridge is its integration with the surrounding landscape. Lush greenery and vibrant flora embrace the structure, making it feel like a natural extension of the park. As visitors stroll along the footbridge, they are treated to panoramic views of the park's expansive lawns, sparkling water features, and the iconic buildings of Ibirapuera Park, including the Museum of Contemporary Art and the Oca Exhibition Pavilion.

Beyond its architectural beauty, the footbridge serves a vital purpose by offering a convenient and safe pedestrian route within the park. It enhances accessibility for visitors, allowing them to easily navigate between different areas and attractions, whether they are heading towards the museums, gardens, or simply enjoying a leisurely walk in the park.

The Ibirapuera Park Footbridge has also become a gathering place for locals and tourists alike. It provides a space for people to pause, appreciate the natural surroundings, and take in the vibrant atmosphere of the park. It is not uncommon to see joggers, couples, families, and individuals enjoying a peaceful moment on the footbridge, immersing themselves in the beauty of the park and the city beyond.
Ibirapuera Park Footbridge on Map
Walking Tours in Sao Paulo, Brazil