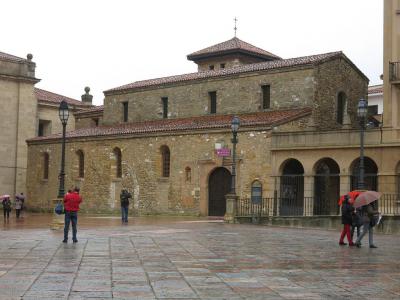 Iglesia de San Tirso (Church of Saint Thyrsus), Oviedo
The original Church of San Tirso, built by Tioda, the royal architect of Alfonso II of Asturias, back in the 790s, served as a royal chapel. Over the centuries, it has endured numerous modifications.

The building was completely transformed at the end of the 12th century, during the Romanesque period, and then in the 14th century when a large part of it was rebuilt. The Great Fire of Oviedo in 1521 nearly totally destroyed the temple. Another round of alterations followed in the 18th century, and the most recent one occurred during the 20th century, ultimately removing most of the original features, except for the front wall of the apse and a triplet round-arched window in the rectangular sanctuary.

The rectangular interior has three naves (one central and two lateral) divided by pillars that support semicircular arches. Found inside these naves are the chapel of Santa Ana (to the south, added in the 16th century), the main altarpiece (in front) and, on the north side, a lateral corridor. The church has three floors, two of which are underground.

The interior is crowned with a Gothic ribbed vault that rests upon the corbels with angels supporting shields. In the easternmost bay, owing to the smaller span, the arch was made sufficiently pointed to raise its crown to the same height as the others.

Highlights of the main chapel's altarpiece include the image of the Assumption, the sculpture of San Tirso by Antonio Borja, a Pieta, the altarpiece of Christ, and the triptychs by Francisco Reiter.

Located inside the church is also the tomb of Balesquita Giráldez, founder of the Balesquida Chapel.

The Church of San Tirso has been listed as an Asset of Cultural Interest since 1931.
Sight description based on Wikipedia.
Iglesia de San Tirso (Church of Saint Thyrsus) on Map
Walking Tours in Oviedo, Spain