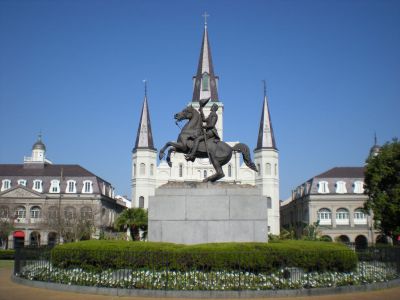 Jackson Square, New Orleans
(must see)
Because of its proximity to the Mississippi River, the St. Louis Cathedral, and the Cabildo, the lively Jackson Square was and is a popular meeting spot at the heart of the French Quarter. Named after Andrew Jackson, hero of the Battle of New Orleans who went on to become the US president, it was a hubbub of activity since colonial times, when the militia performed drills, vendors sold their wares at the open-air market, and public hangings and beheadings were carried out.

Now revamped into a landscaped park with neat lawns and flowerbeds, the square somehow manages to not feel hectic, despite the streams of photo-snapping tourists, school groups, waiters on their breaks, and the odd crashed-out casualty. During the day, everyone passes by at some time or another, weaving their way through the tangle of artists, palmists, magicians, shambolic jazz bands, and blues musicians. In addition, the site has been the location of many festive events, movies and television shows – you might even get to be an extra in a movie yourself!

Why You Should Visit:
The view of Jackson Square is fairly iconic, featuring Jackson's equestrian statue at its center and the beautifully designed St. Louis Cathedral as its backdrop – but there's always more to appreciate than the view. Art/music festivals, mule-drawn carriage tours, artists selling their wares, quirky street performers... you never know what you'll find here. Good for some great tourist photos, a quick break on the chairs, and really a great place to take it all in. You'll see so much of New Orleans from just this little spot that it's kind of amazing.

Tip:
Go by 2pm to get the full effect: otherwise, the area dies down... until dinner.
Also, remember to walk up the steps and watch the boats go by on the Mississippi.
Walking Tours in New Orleans, Louisiana