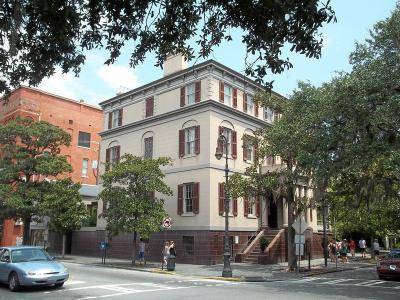 Juliette Gordon Low Birthplace, Savannah
(must see)
Juliette Gordon Low is best known as the woman who first organized the Girl Scouts in 1912, after meeting war hero Robert Baden-Powell, founder and first Chief Scout of the world-wide Boy Scout Movement. Always an energetic, happy woman, Low was known for jumping headfirst into new hobbies and interests, and after having learned about the Girl Guides in England, she returned inspired to bring the girl's scouting movement to Savannah, Georgia, and America beyond.

The building itself is a blend of Regency and Victorian designs, with – like many other Savannah houses from the 1800s – a basic floor plan known as a "Savannah box". In this particular case, the basic floor plan was expanded upon to create a grander house, which is considered a National Historic Landmark, both for its age and excellent preservation, and for being the site of Juliette Gordon Low's birth. After its purchase by the Girl Scouts of America in 1953, the property was extensively restored and turned into an educational center and historical museum, as it remains to this day.

Why You Should Visit:
Nice tour, reasonably priced, and there are many interesting things about the house and the lives of the people that lived there, not just Juliette, whose artwork is on display. The gift shop offers a nice variety of Girl Scout memorabilia along with local souvenirs, and you can stroll the gardens without paying. If you were ever a scout, you'll probably love this place.

Tip:
You have to do a guided tour – there is no self-guided option. They rarely book same-day tours, however, so it's best to go online and get advance tickets or purchase them at the door beginning at 10am.
Juliette Gordon Low Birthplace on Map
Walking Tours in Savannah, Georgia