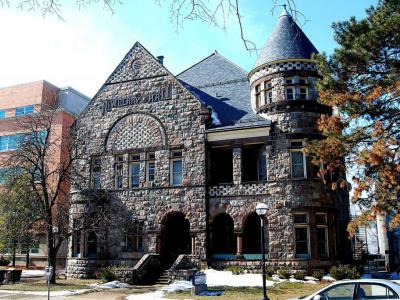 Kelsey Museum of Archaeology, Ann Arbor
The Kelsey Museum of Archaeology is located on the University of Michigan campus. The museum holds more than 100,000 ancient and medieval artifacts as part of its permanent collection. It also has special exhibits throughout the year and sponsors fieldwork and research.

The original Kelsey Museum of Archaeology building was constructed in 1888 and finished in 1891. It was designed in the Richardsonian Romanesque architectural style by architects Spier and Rohns. It was named after Francis Kelsey, a professor of Latin at the university. Kelsey collected artifacts throughout his life and even secured funding for excavations. He gifted these collections to the museum and continued doing so until his death in the early 20th century.

An addition was built in 2003, which added a much-needed wing to the museum. The William E. Upjohn Exhibit Wing added over 20,000 feet of space. This wing allowed the museum to display artifacts that had previously been hidden due to lack of room.

The museum is open Tuesday through Friday from 9 AM to 4 PM and weekends from 1 PM to 4 PM. It is closed on Mondays. Admission to the museum is free.
Kelsey Museum of Archaeology on Map
Walking Tours in Ann Arbor, Michigan