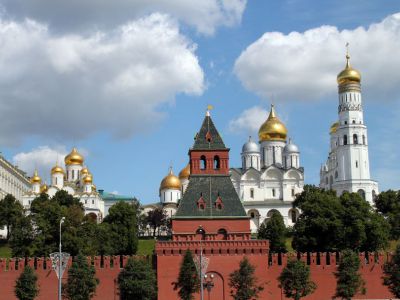 Kremlin, Moscow
(must see)
The word Kremlin means fortress or fortified city. Situated in the heart of the Russian capital, the Moscow Kremlin (Russian: Moskovskiy Kreml) is a historic citadel overlooking the Moskva River to the south, Saint Basil's Cathedral and Red Square to the east, and the Alexander Garden to the west.

The complex comprises five palaces, four cathedrals, and the enclosing Kremlin Wall with towers. Within its walls you will find the most varied monuments, museums and administrative buildings, such as the Grand Kremlin Palace, formerly the Tsar's Moscow residence. Presently, the Kremlin is also the official residence of the Russian President.

Established in 1961, the Kremlin Museums were among the first Soviet patrimonies inscribed on the World Heritage List in 1990. Among them are the Armoury Chamber (complete with the Russian Diamond Fund), Tsar Cannon, Tsar Bell, artillery pieces, and more.

The Kremlin Wall was built between the 15th and 16th centuries, replacing the original wooden wall dated from the foundation of Moscow in 1147. The Soviet government moved to Moscow from Petrograd (today's St. Petersburg) in 1918. Both Vladimir Lenin and Joseph Stalin had their personal rooms in the Kremlin. In a bid to remove all the "relics of the tsarist regime" Stalin had the golden eagles on the towers replaced with shining stars, while the wall near Lenin's Mausoleum was turned into the Kremlin Wall Necropolis.

In his turn, Vladimir Putin authorized the construction of helipad inside the Kremlin to avoid disruptions of traffic caused by presidential motorcades. The helipad was completed in May 2013.

Why You Should Visit:
A key feature of any Moscow tour, the Kremlin bursts with interest and, except for presidential and administrative buildings, is open to the public for group and individual guided tours.
Impressive and well maintained, including the park that goes with it and features lots of fountains and storybook sculptures.

Tip:
Take your photos from the opposite bank of the Moskva river or from the boat.
You can also get a fantastic view of the East walls from the new viewing bridge in Zaryadye Park.
The lines to enter the Kremlin are usually quite long, and the area itself is large, so you'll need to account for that time.
For access to different areas in addition to Kremlin, such as the Armoury, the Diamond Fund or the church area, you will need separate tickets.
Sight description based on Wikipedia.
Walking Tours in Moscow, Russia
Useful Travel Guides for Planning Your Trip
--- 16 Best Russian Things to Buy as Souvenirs in Moscow
While it's easier to list the riches Russia does not have, if there are such, the variety of authentic Russian stuff available in Moscow is truly mind-blowing. Some items are obscenely expensive, others - affordable, but both can make a memorable gift from the largest country in the world. To...