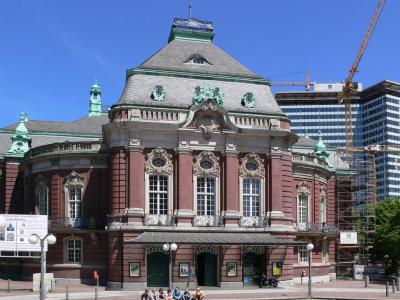 Laeiszhalle (Laeisz Hall), Hamburg
The Laeiszhalle is Hamburg's most popular concert hall, and regularly hosts internationally renowned classical performers and recitals. It is located on Johannes Brahms Platz, an elegant city square named after one of history's finest composers, who was born in Hamburg. A striking neo-Baroque building, it hosts the Hamburg State Opera and Hamburg Music Festival each year. Formerly known as the Musikhalle Hamburg, it is named after F. Laeisz, a shipping company which founded the venue. The hall was planned by local architect Martin Haller, a lifelong Hamburger who also designed the Rathaus building, and became a member of parliament in the city.

First opened in 1908, the Laeiszhalle is the premier classical music venue in a city with a rich musical heritage, from Brahms to the Beatles, who spent many years living in the city. It will soon be joined by the Elbe Philharmonic Hall, a new venue due to open in the HafenCity in 2015. Both venues will work in partnership to attract the most stellar names in the classical field to Hamburg. It wouldn't be the first time – Richard Strauss, Sergei Prokofiev and Igor Stravinsky have all performed or conducted their own works within this historic concert hall.
Laeiszhalle (Laeisz Hall) on Map
Walking Tours in Hamburg, Germany