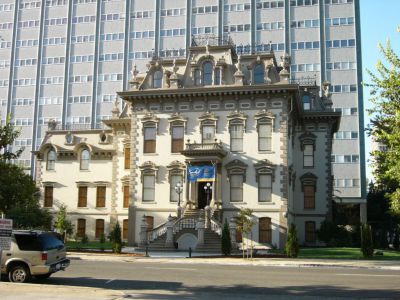 Leland Stanford Mansion State Historic Park, Sacramento
(must see)
Completed in 1857 and purchased a few years later by Leland Standford, this four-story house covers over 19,000 square feet. Standford was the co-founder and president of the Central Pacific Railroad, California's eighth governor, and Stanford University founder. The house has been under the care and management of the state parks since 1998. It is still used for official functions by the governor's and legislative offices and is kept open for public tours.

The original owner of the house was local merchant Shelton C. Fogus. He had the home constructed in a distinctive Renaissance Revival architecture style. In 1861, just before he was elected governor, Stanford purchased the home for $8,000. He used the mansion as his executive office and home. The next two governors did the same. Stanford expanded and modified the home greatly to suit his needs and have it raised above flood level.

The home was donated to the Roman Catholic Diocese by Jane Stanford after her husband and son's deaths. It was used as an orphanage for decades before becoming restored to its present showpiece condition.

The mansion was designated a California historic landmark and a National Historic Landmark.

Tips

Keep in mind that the daily tours of the mansion can be affected by the official functions and events held there. Before heading over, be sure to double-check that tours are available on your planned day.

Enter through the visitor's center on the back of the property. Free guided tours depart hourly from there.
Leland Stanford Mansion State Historic Park on Map
Walking Tours in Sacramento, California