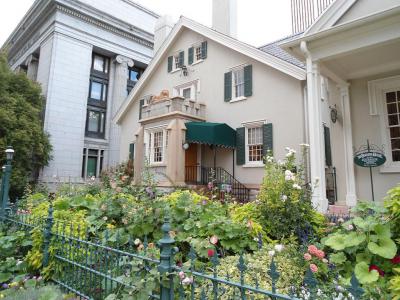 Lion House, Salt Lake City
Taking its name from the recumbent lion set on top of the front portico, this house was constructed 1855-56 as a residence for some of Mormon leader Brigham Young's wives and children. Like all other buildings on Temple Square, it has been pristinely preserved, looking like it was built last year. There is now a pleasant cafeteria-style restaurant inside serving local fare to the faithful and the visitors alike. When you see people gathering together to enter, you know you're in for a good lunch – and you likely won't be disappointed. The homemade bread rolls served with honey butter are Utah famous!

Back in the day, the basement contained a dining room which could accommodate 70 people, while on the main floor were sitting rooms and bedrooms for wives with children. The 2nd floor contained 20 bedrooms for children and childless wives – one under each of the steeply-pitched gables. A polygamist, Young ultimately fathered 57 children by more than two dozen wives, and also had many adopted, foster, and stepchildren. By the 1930s, however, the practice of polygamy had been abandoned by the LDS Church and banned by the state of Utah, making it punishable by imprisonment and a hefty fine.
Walking Tours in Salt Lake City, Utah