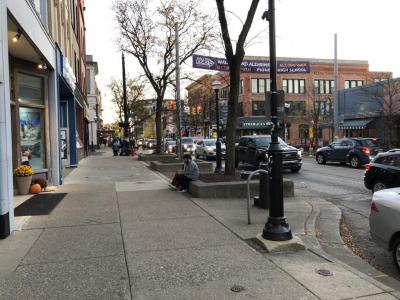 Main Street, Ann Arbor
(must see)
Ann Arbor's Main Street technically starts near the Huron River, between Bandemer Park and Bluffs Nature Area, and then snakes through the downtown area, past the University of Michigan Golf Course, culminating at Eisenhower Parkway. Still, for most locals Main Street is the lively portion of it that bustles day and night, dominated by numerous shopping, dining, entertainment and nightlife venues, collectively exuding a strong sense of place and local culture.

As a center of activity and community gathering place, Main Street offers so much to see and do that many visitors plan their time around this eclectic area. The vibrant thoroughfare literally bursts at the seams with progressive restaurants, creative cocktail bars, unique meeting spaces, popular music joints and boundary-breaking art galleries.

Some of the spots a tourist will find on and around Main Street include the Ann Arbor Art Center, the Blue Llama Jazz Club, and Downtown Home and Garden. Those who want to spend their time outdoors will find Liberty Plaza to be a true treat. This park area has benches for seating, shade trees and regular musical performances in the summer.

However, dynamic dining is what most defines Main Street. Classical steaks, Asian cuisine, or other internationally-inspired casual fare (like Cuban or Greek), as well as healthful comfort food, crepes and waffles, or farm-to-table stuff – are all offered here in great supply. The bar scene on Main Street is just as exciting.

Shopping-wise, the area is second to none either and hosts several annual events to celebrate their unique retailers. Bookstores may be the most famous of them. Known for decades as a book-lover's destination, Ann Arbor is home to a plethora of niche, unique, independent booksellers, many of which are based on Main Street or nearby side streets.

The continuous rhythm of historic 19th and early 20th-century building storefronts (featuring a variety of styles like Commercial, Italianate, Beaux Arts, Moderne and Art Deco) contribute to an exciting pedestrian environment.

There are also more than a dozen events organized on Main Street throughout the year (such as Festifools, Taste of Ann Arbor, Ann Arbor Restaurant Week, or Rolling Sculpture Car Show) which attract residents and visitors of all ages.
Walking Tours in Ann Arbor, Michigan