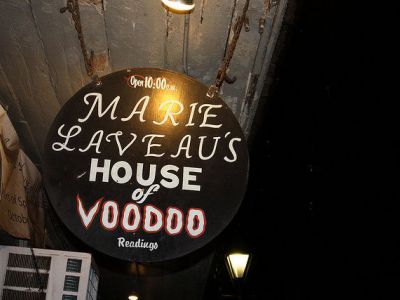 Marie Laveau House of Voodoo, New Orleans
When in New Orleans, be sure to stop by Marie Laveau's House of Voodoo at the world famous Bourbon Street in the historic French Quarter. This museum and store is set on the site of the former home of the second Voodoo Queen of New Orleans, daughter of the first Voodoo Queen of New Orleans, Marie Laveau, and first opened its doors in 1988. Since then a popular spot, it has been equally enjoyed by locals, tourists and the strangely curious.

Marie Laveau II used to live here with her children up until around 1895. She was known for her wild rituals in the swamps around New Orleans, during one of which, performed at Lake Pontchartrain in the outskirts of the city, she reportedly drowned thus causing her ghost to start haunting the house since. Some visitors claim to have seen it linger around during spiritual readings in the backroom, while others reported having felt her icy fingers on their shoulders. Uhhh!

Other than the ghost though, inside the shop you will find all sorts of eye-catching odds and ends, a Voodoo Altar, occult books and a wide array of items for sale set to help in both learning and practicing spiritual and religious ceremonies. There is also a wealth of tribal masks and statues from around the world to be found, symbolizing ancestors connection with the spirit and earth, plus numerous talismans and charms directed towards many different supplications. Also, in addition to retail items, there are psychic and spiritual readings, spells and Tarot card readings held here each day, from 12:00pm until closing, in the backroom. Other types of readings are also available upon request.

Tip:
On busy days, people show up at opening to sign up for readings, so arrive early to secure a spot if this is what you desire.

Operation Hours:
Sunday - Thursday: 10 am - 11.30 pm; Friday - Saturday: 10 am - 1.30 am.
Marie Laveau House of Voodoo on Map
Walking Tours in New Orleans, Louisiana