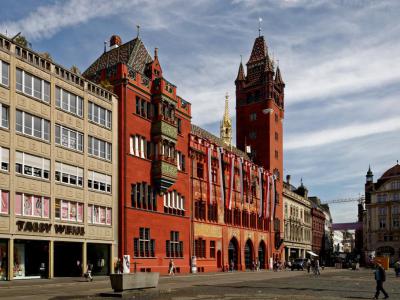 Marktplatz (Market Square), Basel
The vibrant red town hall dominates Market Square. Market Square hosts a daily market that features local produce and regional and Swiss specialties. In addition, visitors can stock up on flowers, coffee, honey, crafts, and wine.

The square dates back to at least the year 1091. Back then, the square was bisected by Birsig Creek. There was a grain market where the citizens met and handled business. In 1290, the first town hall was built and that became the center of the town's political life.

In addition to the town hall, the square was home to the court. In front of the courthouse was a flat stone used for executions and public announcements. The accused often were brought here to face the ridicule of the population.

In the early days, the square was surrounded by wooden shops and houses with fold-down shutters. Through the open windows, owners would sell their goods that included meats, sausages, tripe, herring, birds, and gingerbread.

The houses were destroyed in 1891 to expand Market Square. Over the years, large commercial buildings have taken over. The square was further modified in 1908 when it was leveled out. Today, it is one of the most important tram junctions in the city, with seven lines passing through this one spot.

Market Square is delightful over the Christmas holidays. Visitors can do holiday shopping while enjoying hot chocolate and festive holiday lights. But any time of year is a great time to visit, thanks to the many charming cafes, restaurants, shops, and boutiques.
Marktplatz (Market Square) on Map
Walking Tours in Basel, Switzerland