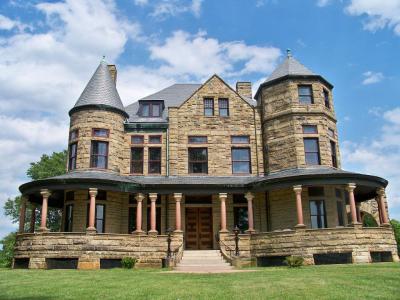 Maymont, Richmond
(must see)
Maymont is to Richmond what Central Park is to New York. It includes a historic mansion, petting zoo, gardens, and wildlife, all near Carytown. The park is built on the property of a 19th-century Victorian estate. It covers over 100 acres down to the James River.

The house at Maymont was built in 1893 for James H. Dooley and his wife. Dooley was a local lawyer and philanthropist, and they willed their estate to the people of Richmond. The property includes more than 25 original buildings and structures. Most notable are the Carriage House, the Stone Barn, and the Water Tower. Smaller structures include the Dooley's mausoleum, bridges, gates, and various gazebos throughout the gardens. Styles range from Italian Neoclassical, rustic, and Victorian.

The grounds surrounding the estate have opulent themed gardens. There is also the Maymont Farm, with horse and cow pastures, and a petting zoo. There are also several habitats for native wildlife. The Robins Nature Center features exhibits on the ecology of the James River and the Chesapeake Bay, with over 30,000 gallons of aquariums.

Why You Should Visit

Maymont was named as one of the top ten public spaces by the American Planning Association.

The grounds at Maymont are beautiful. The Japanese Garden, in particular, contains a koi pond and waterfall. There are numerous rock gardens and red maples. The Italian Garden has a pergola, fountains, and urns in the style of 16th-century classical gardens. More than 200 species of trees are included in the arboretum. In all, there are ten specialty gardens to explore. These spots are popular outdoor wedding venues.

Inside the Carriage House, you will find a collection of horse-drawn vehicles typical of a Virginia country estate from the turn of the last century. There are more than 20 vehicles that have been collected or donated.

The 12,000 square-foot mansion has never been occupied or altered since it was the Dooley's home. It's one of the best-preserved mansions in the country from the Gilded Age.

Tips

There is a lot to see and do at Maymont, so you might want to plan several trips if you can. Tours of buildings are subject to availability, so check the Maymont website for updates.
Walking Tours in Richmond, Virginia