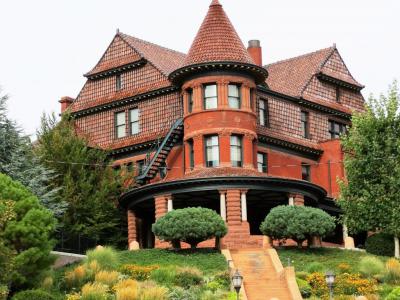 McCune Mansion, Salt Lake City
Situated on a prominent corner location on Capitol Hill, the McCune Mansion majestically overlooks Temple Square and downtown Salt Lake City. According to the sign on site, it was built in 1901 by railroad and mining tycoon Alfred McCune, who spared little expense on design and decoration, having even financed a two-year tour of America and Europe for architect S.C. Dallas to study different designs and techniques. The chosen design was a Gothic revival plan with East Asian influence, replicating a house that the McCunes saw while driving in New York City.

Now listed on the National Register of Historic Places, the extravagant mansion features imported materials from many parts of the world. McCune had mahogany shipped from San Domingo, oak from England, and a rare white-grained mahogany from South Africa. The red roof tiles came from the Netherlands, and an enormous broad mirror wall was transported from Germany in a specially-made railroad car. The walls were adorned with moiré silks, tapestries, and Russian leather, and only the exterior was built of locally-sourced red sandstone – though some details like the lavish fireplaces used more exotic stone like Nubian marble. At its completion, the mansion had cost McCune one million dollars.

Lovingly restored to its original grandeur, the privately-owned building is open to private tours, business events, weddings and other special occasions. Historical tours are provided by Preservation Utah – call ahead to schedule your tour time.
Walking Tours in Salt Lake City, Utah