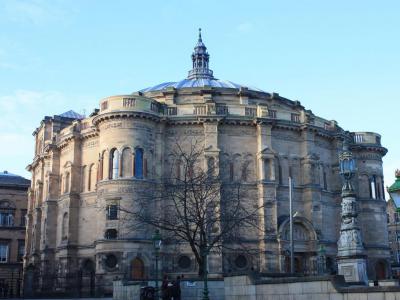 McEwan Hall, Edinburgh
The McEwan Hall has been described as being ostentatious and in bad taste, but you should visit it yourself and make up your own mind about it.

In the 1890s the University of Edinburgh asked the City Council for funds to build a graduation hall, but the request was turned down as the Council didn't think they needed one. William McEwan, the master brewer, stepped in and offered to have a hall built if it bore his name.

The building was designed in the Italian Renaissance style by Sir Robert Rowand Anderson. It is a D-shaped structure with a semi-domed roof. The exterior is sober and nothing seems showy about it. The hall was finished in 1897 and duly presented to the University.

The most remarkable feature about the interior is the double helix stairway that leads to the semi-circular galleries. One stairway is climbed from the exterior of the hall; the other is inside the hall. This concept is unique in Scotland.

The reputation of being in bad taste comes from the beautifully elaborate wall panels within the tiered auditorium. These were created by William Palin and they represent the academic disciplines and the Virtues. One panel depicts William McEwan, wearing a smug, "holier-than-thou" expression presenting the hall to Minerva in the Grove of Academe.

William McEwan was given an honorary doctorate in 1898 and some unkind tongues suggested that he built the hall for the sole purpose of "furthering his education without having to get his head out of the ale barrel".
Walking Tours in Edinburgh, Scotland
Useful Travel Guides for Planning Your Trip
---