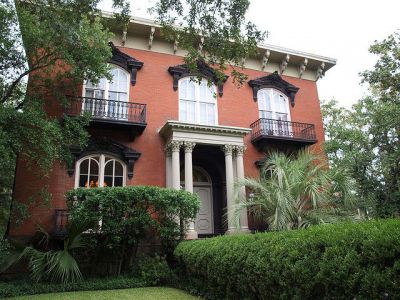 Mercer-Williams House, Savannah
(must see)
The Mercer-Williams House Museum sees a lot of visitors due to its role in the hugely popular "Midnight in the Garden of Good and Evil". While this grand John Norris building is now primarily known as a crime scene involving late antiques dealer Jim Williams and his lover, if you take a tour of the home, you might hear less about all that than you may have expected.

Now proudly owned by Jim Williams's sister, an established academic in her own right, the house deliberately concentrates on the early history of the home and Jim Williams's prodigious talent as a collector and conservator of fine art and antiques. Tours are worth it for art aficionados even though the upstairs, Dr. Kingery's residence, is off-limits.

Williams bought the elegant Italianate mansion, which has been cited as "nationally significant" for its architectural style, in 1969. With its tall arched windows and ornate ironwork balconies, it is considered one of the most beautiful in Savannah.

Why You Should Visit:
Okay, so you only get to see the garden and the first floor, but the house is so interesting and the guides are so committed to telling the stories that it's a worthwhile tour.

Tip:
Try to check the neighborhood out at night, as the garden/park in the center of the block is eerily beautiful and well-lit.
Mercer-Williams House on Map
Walking Tours in Savannah, Georgia