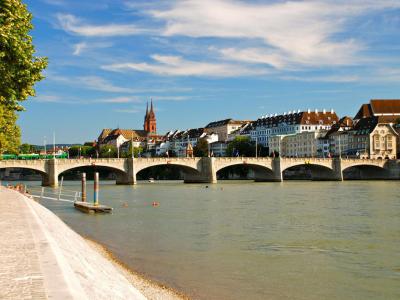 Middle Bridge, Basel
The Middle Bridge was originally built sometime in the 13th century. This bridge played an essential part in Basel's success as it allowed easy access for merchants and locals. Originally, money lenders charged those crossing with mules, horses, and goods a toll of 30 silver marks until the construction was paid off.

The Middle Bridge was rebuilt from stone between 1903 and 1905. The rebuilt bridge is 192 meters (630 feet) long and has seven arches. Six arches stretch over the Rhine River, and one covers the riverside footpath.

Today, private motor vehicles are prohibited in order to keep the city center car-free.

Visitors will find several sculptures on the bridge. Carl Burckhardt's last sculpture, The Amazon, is located on the bridgehead. The bronze sculpture shows an Amazon leading a horse. Burckhardt completed the plaster model but died before the sculpture was cast. Burckhardt's workshop completed the sculpture after his death.

Bettina Eichin's sculpture Hevetia auf der Reise sits on the bridgehead wall. The sculpture depicts a woman looking across the Rhine with her suitcase beside her.

The artist Ludwig Stocker donated the Lagerstätte sculpture to celebrate Basel's 600 year unification celebration in 1992. The sculpture represents the emblems of the three local guilds. This sculpture is partially submerged in the Rhine and is sometimes completely covered by water.
Walking Tours in Basel, Switzerland