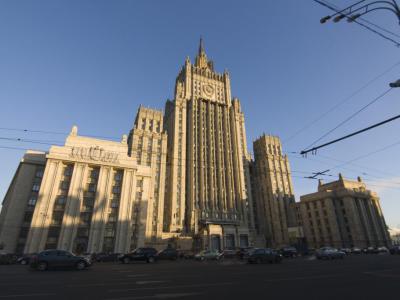 Ministry of Foreign Affairs Main Building, Moscow
The main building of Russia's Foreign Affairs Ministry is one of the seven skyscrapers in Moscow designed in Stalinist style. At the time of construction, between 1947 and 1953, the so-called Seven Sisters were the tallest buildings in Europe, and have long dominated the skyline of Moscow ever since.

The MFA edifice stands on the site previously intended for the House of Foreign Tourism, whose construction began in 1931, which was then remodeled as a wing of the People's Commissariat of the Meat and Dairy Industry also unfinished because of the war.

The Foreign Ministry project kicked off in 1948 and was completed in 1953, led by architects Vladimir Gelfreykh and Adolf Minkus, based on the dimensions and outline of the previous construction and some other pre-war buildings nearby incorporated into the ensemble. Apparent is the visual similarity with Woolworth Building in Manhattan whose architectural appearance reflects English Gothic style characterized by rigid ribs, height and upward tendency.

The skyscraper stands 172 meters (564 ft) tall and has 27 floors served by 28 elevators, including 18 high-speed ones. On the main facade, 114 meters high, is the coat of arms of the former USSR. Similarly to all its sister towers, the MFA's top is crowned by a metal spire accentuating the silhouette. The spire was hastily added to the design at the insistence of Joseph Stalin in 1952, a year after the project was completed. The objecting Vladimir Gelfreykh was politely advised that if he refused to comply, another architect would take his place...

Adding a spire represented a bit of a problem as the lightened top of the building couldn't hold a heavy stone installation, so they decided to put a decorative one instead, made of painted ocher-steel sheets, thus reducing the total weight of the 56-meter spire to 350 tons. Its fragility became the reason that the Foreign Ministry building is the only Stalinist skyscraper not crowned with a five-pointed star. Legend has it that after Stalin's death, the architect Minkus wrote to Nikita Khrushchev asking to dismantle the spire, to which he replied: "Let the spire remain a monument to Stalin's stupidity." In 2017, because of the corrosion, the old spire was dismantled and cut into souvenirs, while a new exact copy was installed later the same year.
Sight description based on Wikipedia.
Ministry of Foreign Affairs Main Building on Map
Walking Tours in Moscow, Russia
Useful Travel Guides for Planning Your Trip
--- 16 Best Russian Things to Buy as Souvenirs in Moscow
While it's easier to list the riches Russia does not have, if there are such, the variety of authentic Russian stuff available in Moscow is truly mind-blowing. Some items are obscenely expensive, others - affordable, but both can make a memorable gift from the largest country in the world. To...