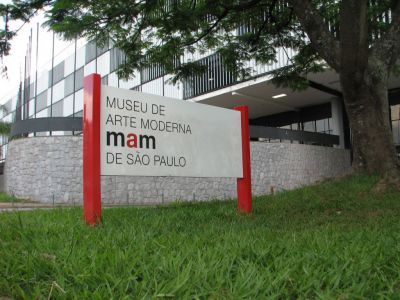 Modern Art Museum, Sao Paulo
The São Paulo Museum of Modern Art is a prominent cultural institution located within the beautiful surroundings of Ibirapuera Park in São Paulo. The museum, founded by Francisco Matarazzo Sobrinho and Yolanda Penteado in 1948, is a non-profit organization dedicated to the preservation, exhibition, and promotion of modern and contemporary art in Brazil.

Designed to emulate the renowned Museum of Modern Art in New York City, São Paulo Museum of Modern Art occupies a striking building that forms part of the architectural ensemble envisioned by the iconic Brazilian architect, Oscar Niemeyer, in 1954. The structure underwent renovations in 1982 by Lina Bo Bardi, another influential architect, to accommodate the museum's growing needs.

The Museum of Modern Art boasts a diverse collection of over five thousand works, showcasing the evolution of Brazilian modern and contemporary art. Its collection encompasses traditional artistic formats but also embraces more experimental mediums such as video art, performance art, and installations. The museum's commitment to representing a wide range of artistic expressions reflects its dedication to staying at the forefront of artistic innovation.

Since its inception, São Paulo Museum of Modern Art has assembled an impressive collection, which features works by both Brazilian and international artists. The museum's holdings include more than 4,000 pieces that span various artistic movements and styles. Among the artists represented in the collection are Anita Malfatti, Alfred Barye, Aldo Bonadei, Alfredo Volpi, Emiliano Di Cavalcanti, José António da Silva, Joan Miró, Marc Chagall, Mario Zanini, and Pablo Picasso, to name just a few.

Why You Should Visit:
A nice place to check out since it is inside the Ibirapuera Park, so you can walk around, swing by and take in the artwork, and then have a nice meal at the MAM restaurant – a destination spot in the park with a bounteous/affordable lunch buffet and great views.
The museum's admission prices are extremely low and staff is extremely friendly. Free admission every Sunday!

Opening Hours:
Tuesday - Sunday: 10:00 am - 6:00 pm; Monday: Closed.
Walking Tours in Sao Paulo, Brazil