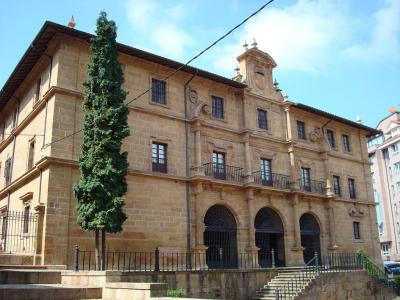 Monasterio de San Pelayo (San Pelayo Convent), Oviedo
The Convent of San Pelayo (Saint Pelagius) is a Catholic nunnery of the Benedictine order, also known as the convent of the pelayas. It was founded by King Alfonso II of Asturias ("the Chaste"), and was initially dedicated to Saint John the Baptist; later it was rededicated to Saint Pelayo, the martyr, whose relics were supposedly acquired by the convent in 994.

The convent sits near the Cathedral of Oviedo. Recent studies suggest that the original basilica on this site was built as early as the 9th century, making it contemporary to the other well-known structures of the period of reign of Alfonso II, such as the churches of San Tirso or San Julián de los Prados. It is believed to have been built under the patronage of Teresa Ansúrez, widow of King Sancho I of León.

The convent complex was largely remodeled after the 16th century, during which period it had lost most of its original Romanesque elements, including the church designed in 1590 by Leonardo de la Cajiga. In 1650 it had its first major addition, the towers, constructed by Melchor Velasco. At the end of the 17th century, it was rebuilt once again, this time to a design by Gregorio Roza, Francisco de la Riva and Gaspar Ladrón de Guevara, renowned architects who gave the property its current appearance. The last round of reconstruction, begun in 1703, included the erection of the vicarage with an imposing façade, created by Fra Pedro de Cardeña.
Sight description based on Wikipedia.
Monasterio de San Pelayo (San Pelayo Convent) on Map
Walking Tours in Oviedo, Spain