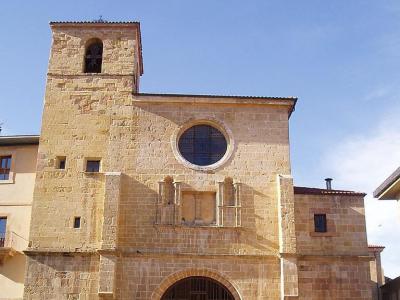 Monasterio de San Vicente (San Vicente Monastery), Oviedo
Upon its foundation in the 8th century, the church and the monastery of San Vicente gave rise to the city of Oviedo.

According to the document of 781, known as the Pacto monástico de Oviedo ("Monastic Pact of Oviedo"), the monks Maximus and Fromestano arrived and settled in a place called Oueto in 761, where, together with their followers, they built a basilica dedicated to San Vicente, a deacon and martyr of Valencian origin. Between 969 and 978, the Monastery of San Vicente accepted the rule of San Benito (Saint Benedict) and its 26 inhabitants formed the original nucleus of the future city. Thus, Fromestano and Maximo are rightfully regarded as the founders of both the church and the city of Oviedo.

Initially Romanesque in style, the monastery was rebuilt extensively throughout the 11th and 12th centuries, and then later, on numerous occasions, to such an extent that the elements of its original structure were disseminated and lost.

The Romanesque cloister was replaced with a new one, created in the early 16th century by both Juan de Badajoz Senior and Junior. The Gothic-Renaissance cloister (now home to the Archaeological Museum of Asturias, since 1952) is formed on its ground level by a group of twenty arched vaults. On its upper floor, added in the middle of the 16th century, featuring Plateresque style, are the columns with capitals and footings decorated with masks and medals.

Thanks to the support of the Asturian royalty and local nobility, the monastery remained the richest and most influential in Asturias up until its dissolution in 1836. Today, the basilica of San Vicente is the only part of the monastery that is still in the hands of the church, owned by the Parish of Santa María la Real de la Corte.

Inside the temple there are two ancient baptismal fonts recovered during excavations in the sacristy, carried out in 1970. One of them is round in shape and the other, the most interesting, is rectangular, made of lustrous marble, with edges decorated in a bevelled floral pattern clearly reminiscent of the Roman tradition. Held in the sacristy of the church, it is considered one of the first existing immersion baptismal fonts found on the Iberian Peninsula.

The monastery was declared a Historic-Artistic Monument in March 1962, although its cloister had already enjoyed such recognition since 1934.
Sight description based on Wikipedia.
Monasterio de San Vicente (San Vicente Monastery) on Map
Walking Tours in Oviedo, Spain