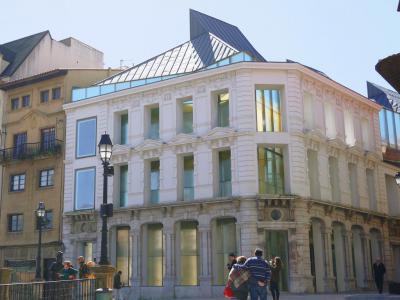 Museum of Fine Arts of Asturias, Oviedo
(must see)
The idea of the Fine Arts Museum of Asturias was conceived in 1969 with the formation of the Public Foundation, Regional Center for the Fine Arts. Art museums were not new in Spain, as National fine arts venues could be found in most major cities. Museums in Asturia aimed to promote and celebrate regional and local fine arts.

On May 19, 1980, the fine arts gallery of Asturias was inaugurated. At that moment, it consisted of seven exhibition rooms showing 78 works of art. The Velarde Palace, built in 1770, was acquired and remodeled by architect Florencio Muniz Uribe between 1973 and 1976. The Palace joined with the Oviedo-Portal House (1660), and five adjacent buildings were remodeled between 1993 and 1996 by architects Jorge Hevia and Cosme Cuenca.

A few years later, at the end of the 1990es, talks about the need for a new extension began. The Modern Wing of the museum, designed by architect Francisco Mangado, was inaugurated in 2015. The Wing building stands on the plots of the five buildings acquired on Rua Street. A great feature of the Wing is its double facade. The Modern Wing is wrapped in historical buildings. Bits of the New Wing peep through gaps in the old walls. "Empty spaces" within the Wing are created with courtyards and skylights.

Today, the Museum of Fine Arts holds more than 15,000 works of art, including Asturias and Spanish artists, ranging from El Greco, Zurbaran, and Murillo to Picasso, Miro, and Dali. Baroque and modern sculptures, drawings, posters, and over 1,000 photos stand out.

The museum is open from Tuesday to Saturday. Sundays and holiday hours are 10:30 am to 2:30 pm. Admission is free.
Museum of Fine Arts of Asturias on Map
Walking Tours in Oviedo, Spain