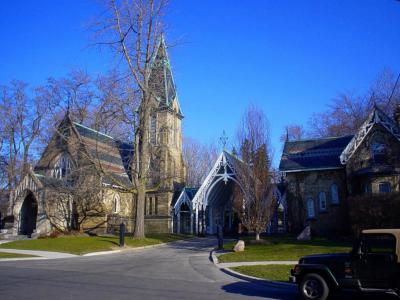 Necropolis Chapel, Toronto
Found at the edge of Don Valley in the Cabbagetown neighborhood, this Gothic Revival styled Necropolis Chapel was built in 1872 by Henry Langley. Beautifully preserved, the chapel fits well into the surrounding context of heritage conservation. The name Necropolis translates into "City of the Dead" and is the first non-sectarian cemetery in Toronto. The chapel has a patterned roof with pitched gables raising high to a sharp ridge. Two different patterns of slate covering the roof give it a unique multicolored appearance. The chapel also has detailed trefoils, rich wrought iron-worked fences and a pointed barrel stone vault marking the entrance, leading to the building's central area.

On the east side is a square tower which gives the edifice a picturesque, asymmetrical appearance and seems to shift the structure's center of gravity, thus giving it an ascending diagonal axis. The edifice is built mostly with yellow-bricks and has a jagged and pointed contour due to the steep roof and the tower. The eaves of the porch and barge-boards of the gables of the caretaker's house and the main gate are decorated with white sawn wood ornaments.

In the mortuary chapel lie the remains of Toronto's first mayor, William Lyon Mackenzie, and one of the fathers of Confederation, George Brown.
Walking Tours in Toronto, Canada
Useful Travel Guides for Planning Your Trip
--- Traveler's Guide to Toronto: 15 Authentic Canadian Products to Bring Home
Toronto may well not be the whole Canada, but no Canada is whole without Toronto! By far too many things, quintessentially Canadian, associate with this bustling city, from Niagara Falls to Ice Hockey to... to mention but a few. To mention them all, check out the list of some not-to-be-missed... The Epic Toronto Pub Crawl
There is no better way to see Toronto's many different neighborhoods and get a literal taste of the Distillery District, the Esplanade, downtown, the Entertainment District and Yorkville. Plus you'll learn a little about the bar and get its highlights at your fingertips so you'll be in the...