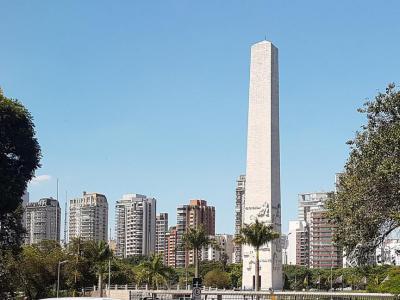 Obelisk of Sao Paulo, Sao Paulo
The Obelisk of São Paulo, located in Ibirapuera Park in the vibrant city of São Paulo, stands as an important monument steeped in historical significance. Serving as a lasting tribute to the Constitutionalist Revolution of 1932, this grand structure proudly holds the distinction of being the largest monument in São Paulo. With its towering height of 72 meters (236 ft 3 in), the Obelisk of São Paulo commands attention and admiration from all who visit.

The visionary artist behind this remarkable obelisk is Galileo Ugo Emendabili, an Italo-Brazilian sculptor who arrived in Brazil in 1923. Emendabili's creative prowess and dedication to his craft are evident in the meticulous design and construction of this magnificent monument. Crafted entirely from pure travertine marble, the obelisk exudes a timeless elegance and serves as a testament to the artistic and architectural prowess of its creator.

The unveiling of the Obelisk of São Paulo took place on July 9, 1955, a significant date that marked the first anniversary of the inauguration of Ibirapuera Park. The park itself is a cherished green space in the heart of São Paulo, known for its sprawling lawns, beautiful gardens, and diverse cultural attractions. The Obelisk, rising majestically within this verdant oasis, adds a sense of grandeur and historical importance to the park's landscape.

The São Paulo Obelisk stands as a symbol of the 1932 Constitutionalist Revolution, a major uprising against the federal government. It represents the courage and determination of those who fought for autonomy and rights in Brazil's history.
Obelisk of Sao Paulo on Map
Walking Tours in Sao Paulo, Brazil