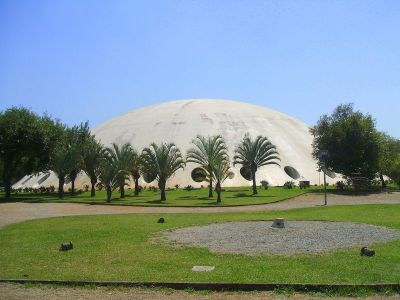 OCA -Lucas Nogueira Garcez Pavilion, Sao Paulo
OCA is an exhibition hall inside Ibirapuera Park in Sao Paulo. The palace is hard to miss for its enormous, 10,000 m2, white-painted dome. This magnificent structure was designed and constructed by Oscar Niemeyer in 1951, to commemorate the city's 400th anniversary. Originally known as Pavilhão Lucas Nogueira Garcez, the building was named after a traditional Native American residence, OCA.

OCA was formerly a museum of Aeronautics and Folklore, which then moved out and the building was refurbished. The exterior has been preserved pretty much in its original form, only repainted a sharper white color, whereas the interior has been thoroughly renovated and added with beautiful curves and ramps. Given the large amount of exhibits, a new air conditioning system had to be installed. Today, OCA is known to be the largest air-conditioned museum in the world. Occasionally, it houses touring exhibitions, e.g. of Indian or Chinese art.
OCA -Lucas Nogueira Garcez Pavilion on Map
Walking Tours in Sao Paulo, Brazil