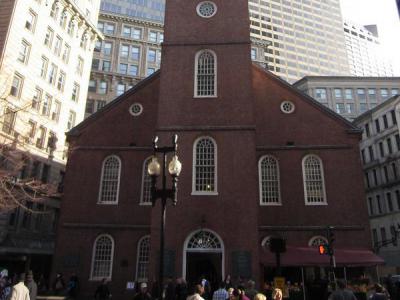 Old North Church, Boston
(must see)
Few places in Boston possess the iconic significance of the modest yet dignified Old North Church, which stands proudly above the uniform red-brick buildings that surround it. Erected in 1723, it is Boston's oldest church building, instantly recognizable by its towering 191-foot steeple. The weather vane crowning its pinnacle is the original colonial one, although the steeple itself is a reconstruction. Both the original steeple, in 1804, and its replacement, in 1954, succumbed to hurricanes.

However, it was not the steeple but a pair of lanterns that etched the church's place in history. On the night of April 18, 1775, the church sexton, Robert Newman, is said to have hung two lanterns inside the church, signaling to the colonial militia the movement of British forces from Boston Common with the famous message, "One if by land, two if by sea". This signal was meant for the colonial militia in Charlestown, as a contingency plan in case Paul Revere's crossing of the Charles River was unsuccessful.

Revere had already received word of the impending British movement and was en route to Lexington when the lanterns were lit, enlisting Newman's help to alert Charlestown in the event his mission was compromised. As it turned out, both Revere and fellow rider William Dawes were detained by British patrols, and only Dr. Samuel Prescott, the lesser-known third rider of the night, successfully reached Concord.

Inside the church, visitors encounter a spotlessly white and well-lit interior, thanks to Palladian windows behind the pulpit. Other notable features include twelve bricks embedded in the vestibule wall from a prison cell in Boston, England, where early Pilgrims were incarcerated. Additionally, there are four 17th-century cherubim near the organ, which were plundered from a French vessel. Churchgoers can even set their watches by the clock at the rear, dating back to 1726, making it the oldest working clock in an American public building.

The eight bells inside the belfry, open to the public during summer tours, were the first to be cast for the British Empire in North America and have since tolled the death of every U.S. president.

Some of Old North Church's most charming features can be found in several gardens outside the church itself. These include the small Washington Memorial Garden, adorned with commemorative plaques honoring past church members, and the inviting 18th-Century Garden, boasting terraces adorned with lilies, roses, and intriguing umbrella-shaped flowers fittingly known as archangels.
Walking Tours in Boston, Massachusetts
Useful Travel Guides for Planning Your Trip
--- Boston's Marblehead Eateries
With such a diverse variety of dining cuisines and styles, the little town of Marblehead has something to satisfy every budget and culinary palate. You won't find any neon here, none is allowed in town and there are no fast food or drive-thrus establishments either. Most are quaint and...