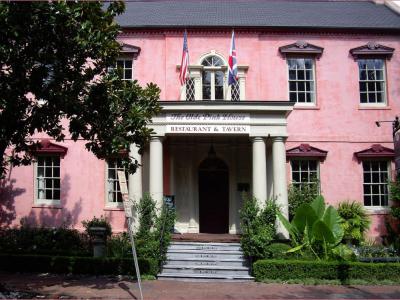 Olde Pink House Restaurant, Savannah
(must see)
The Olde Pink House was originally known as Habersham House when it was built in 1789, after its owner, James Habersham, Jr., one of Savannah's most important early cotton factors and founding-family members. Habersham lived there until his death in 1799. The lot was originally a land grant from the British Crown. It survived the Savannah fire of 1796 that destroyed 229 buildings in the city.

In 1812, the home became Planters Bank, the first bank in Georgia. It was at this time that a portico, supported by unfluted Doric columns, was added to the building's main façade, while an extension was built on the northern side.

After the Civil War, the house changed hands several times, becoming an attorney's office, bookstore and Alida Harper Fowlkes' Georgian Tea Room. The building went through extensive restoration to regain its former glory in 1970 and re-opened as a restaurant in 1971.

Today the Olde Pink House Restaurant serves traditional southern and lowcountry cuisine with accompanying live music in Savannah's only 18th-century mansion. If you are visiting Savannah for the first time and only have time to dine at one restaurant, this should be your choice. With antiques, ancestral paintings and fireplaces, and high-end service, guests can enjoy the Southern cuisine in style.
Olde Pink House Restaurant on Map
Walking Tours in Savannah, Georgia