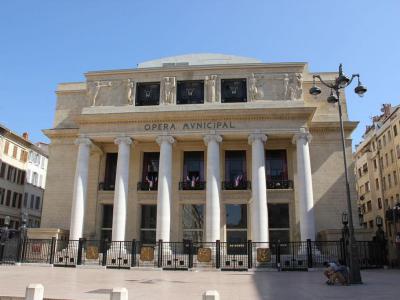 Opéra Municipal (Municipal Opera House), Marseille
The Municipal Opera House opened its doors in 1924. It replaced The Grand-Theatre or Salle Bauveau, constructed in 1787, which had previously replaced the original house of 1685.

The Grand Theatre enjoyed great success after the revolution and many great operas opened there. In November 1919, some years following the introduction of electricity, the theatre burned almost to the ground, leaving only the outer shell and one exterior colonnade.

The present opera house seats 1,800 in an urn-shed auditorium. It also has boxes, balconies and a gallery. It is designed by the architects Ebrard, Castel, and Raymond. it has been described as "an Art Deco temple".

Among famous artists who have debuted at this house are Alfredo Kraus, Placido Domingo, and Renata Scotto. The audiences have a reputation being very critical. Most of these critics can be found in the topmost gallery. They are commonly referred to as "the gods".
Opéra Municipal (Municipal Opera House) on Map
Walking Tours in Marseille, France