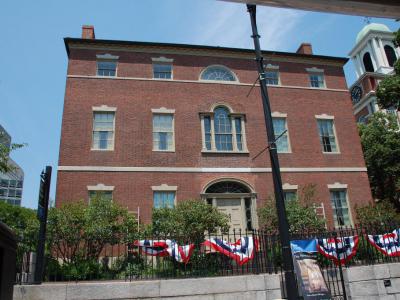 Otis House I, Boston
Constructed in 1795-96, this house, adjacent to the Old West Church, was the first of three properties masterminded by the esteemed American architect, Charles Bulfinch. It was designed for Harrison Gray Otis, a prominent Massachusetts politician and Federalist lawyer, who, alongside his wife Sally, frequently hosted extravagant parties here. Notable for being among the earliest three-story brick houses that exemplified the Federal architectural style, its interior showcases the influence of Robert Adam.

Although the most unassuming of the three residences designed by Bulfinch for Otis, its inspiration is traced back to a William Bingham house in Philadelphia, which Bulfinch encountered in 1789 and was, in turn, derived from a London residence. Characterized by its three stories, five-bay width, and refined string courses, the structure has a graceful entrance added post-1801, adorned with a splendid Palladian window above it, capped by a lunette. The third floor is notably short, with ceilings just over six feet tall.

In 1916, the Historic New England society acquired the house for use as its headquarters. Originally positioned 40 feet forward from its current location, it was relocated in the 1920s to evade the widening of Cambridge Street, albeit losing its original cellar in the process. Today, connected to a row of houses on Lynde Street serving as offices for Historic New England, the house underwent meticulous restoration in 1960, focusing on the brilliantly colored wallpapers, carpeting, and high-style furnishings. It is open year-round for tours, offering insights into family life during the Federal era and the house's later history when it served as a medical facility providing "Champoo Baths" (a type of traditional aromatherapy treatment) before being transformed into a middle-class boarding facility.
Walking Tours in Boston, Massachusetts
Useful Travel Guides for Planning Your Trip
--- Boston's Marblehead Eateries
With such a diverse variety of dining cuisines and styles, the little town of Marblehead has something to satisfy every budget and culinary palate. You won't find any neon here, none is allowed in town and there are no fast food or drive-thrus establishments either. Most are quaint and...