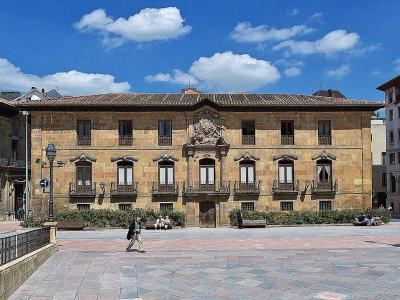 Palacio de Valdecarzana-Heredia (Valdecarzana-Heredia Palace), Oviedo
The Valdecarzana-Heredia palace, a large palatial complex in Plaza de la Catedral, was built between 1627 and 1629 by Don Diego de Miranda. It was designed as the seat for the Miranda family, one of the greatest lineages in the Principality of Asturias. As such, the palace occupies a privileged location, near the Cathedral, attesting to the family's dignified social status and economic and political power.

The house is a pure example of Baroque style. It follows the model of free-standing palaces with a cubic floor plan structured around a large central patio. The three-storey structure is very sober in appearance and consists of simple lines, creating a firm impression of stability.

Its bare western façade, of solid stonework, was once flanked by two four-storey towers, of which only one remains today. Here, you can see the Miranda family coat of arms with the crown of the Marquis of Valdecarzana. The eastern façade of the palace also features elaborate stonework and has, on its second floor, the coat of arms of the Miranda and Ponce de León. The second floor windows are accentuated with wrought iron balconies.

At the end of the 18th century, the Heredia family, the new owners of the palace, reformed the property, endowing its courtyard with the current southern façade, and demolishing the tower on that side along with the garden. Here, over the entrance, you can see the Heredia coat of arms, featuring Hercules fighting the Nemean lion, along with a figurehead featuring the inscription in the form of a diadem, dated 1774.

The seven balconies that open onto the main patio have a lowered arch and present artistic and molded finishes, with scallops and masks.
Palacio de Valdecarzana-Heredia (Valdecarzana-Heredia Palace) on Map
Walking Tours in Oviedo, Spain