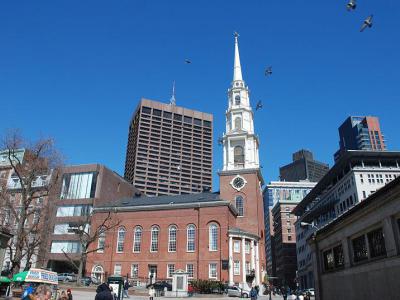 Park Street Church, Boston
Resembling an enlarged version of a typical New England village church, the Park Street Church has stood at the junction of Park and Tremont streets, directly across from Boston Common, since its consecration in 1810. Designed by English architect Peter Banner, who adapted a design by Christopher Wren, one of history's most celebrated English architects, it continues to be one of the city's most influential pulpits. While the building itself is rather unassuming, constructed primarily of bricks and mortar, its striking 217-foot-tall white telescoping steeple commands undeniable attention.

However, the church's renown is not solely based on its physical stature but also on the significant events that unfolded within its walls. In 1819, the parish dispatched the nation's first missionaries to Hawaii. A decade later, on July 4, 1829, William Lloyd Garrison, a prominent journalist and social reformer, delivered his first public address, advocating for the nationwide abolition of slavery. Then, on July 4, 1831, the classic patriotic song "America" ("My country, 'tis of thee...") resounded through the church rafters for the first time.

Contrary to popular belief, the intersection did not earn the moniker "Brimstone Corner" due to the church's sermons. Instead, the name harks back to the War of 1812 when the US militia stored its gunpowder in the church's basement for safekeeping against potential bombardment by the British Navy.

Park Street itself inclines upward along the perimeter of Boston Common toward the Old State House. In the past, this thoroughfare was recognized as Bulfinch Row, named after the architect Charles Bulfinch, owing to the numerous brick townhouses he designed along it. Today, only one of these remains, the imposing bay-windowed townhouse at #9. Constructed in 1804 for George Ticknor, the initial publisher of the Atlantic Monthly, it presently serves as the location for the esteemed French and Italian restaurant No. 9 Park.
Park Street Church on Map
Walking Tours in Boston, Massachusetts
Useful Travel Guides for Planning Your Trip
--- Boston's Marblehead Eateries
With such a diverse variety of dining cuisines and styles, the little town of Marblehead has something to satisfy every budget and culinary palate. You won't find any neon here, none is allowed in town and there are no fast food or drive-thrus establishments either. Most are quaint and...