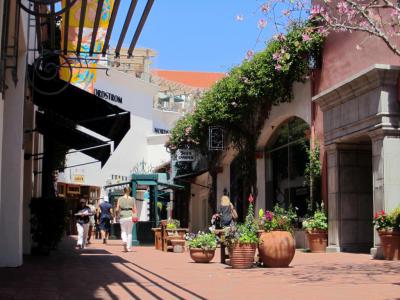 Paseo Nuevo, Santa Barbara
(must see)
Paseo Nuevo is a shopping center that boasts Spanish-style architecture for an exciting shopping experience. Beautiful courtyard areas are a perfect place to gather with shopping buddies and enjoy the sunshine.

Regular events, such as outdoor markets and activities for children, as well as a movie theater, provide fun for everyone. Regardless of whether you're seeking fun in addition to your shopping or are looking for activities for a family day out, Paseo Nuevo won't disappoint you.

Local stores are well-represented here, including Angie's Boutique, Maker's Market, Te Amo, and Zitzilan Imports. The Museum of Contemporary Art Santa Barbara also has a store here. Shopping at these merchants helps to support the local community.

Popular stores represented at this shopping center include Claire's, Gap Kids, Abercrombie & Fitch, American Eagle Outfitters, Game Stop, and Victoria's Secret.

Paseo Nuevo also offers several restaurant options. Some of the restaurants include 805 Boba, California Pasta, California Pizza Kitchen, Eureka Burger, Panda Express, Pickles & Swiss, and Sushytime.

If you're looking for a quick snack or drink, try some French pastries from Le Macaron. You might also consider an acai bowl from Oak Berry or fresh-squeezed juice from Pressed Juicery. See's Candies, Sweet Creams, and Tendi Gelato are also available for a quick break.

Regardless of why you decide to visit this shopping center, you'll come away pleased with what they have to offer. The atmosphere is on that encourages you to get out and enjoy everything.

Paseo Nuevo Mall is part of The Paseo de la Guerra complex of historic buildings. Since 1977 it is listed (as El Paseo and Casa de la Guerra) in National Register of Historic Places.
Walking Tours in Santa Barbara, California