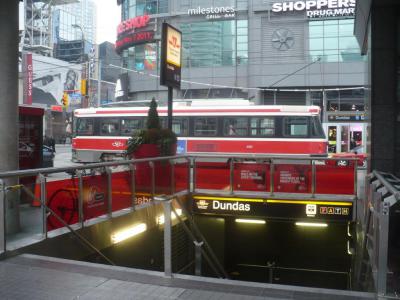 PATH, Toronto
The office towers of Downtown Toronto are interconnected by a network known as PATH, which consists of underground pedestrian tunnels, elevated walkways, and at-grade walkways. This extensive system spans 30 kilometers (19 miles) and connects over 70 buildings, incorporating tunnels, walkways, and shopping areas. Recognized by Guinness World Records, PATH claims the title of the world's largest underground shopping complex, boasting a vast retail space of 371,600 square meters (4,000,000 square feet) with more than 1,200 retail fronts. Currently, the PATH system serves a daily user count of over 200,000 residents and workers, with 30,115 private dwellings conveniently located within walking distance.

The PATH system facilitates connectivity among more than 50 buildings and office towers. It encompasses 20 parking garages, five subway stations, two major department stores, two major shopping centers, six major hotels, and a railway terminal. Notably, the CN Tower, Ripley's Aquarium of Canada, and Rogers Centre are accessible through an enclosed elevated walkway called the SkyWalk; however, this walkway does not provide direct indoor connections to these attractions.

PATH plays a significant role in bolstering the economic vitality of Toronto's downtown core while also supplementing sidewalk capacity. It serves as a crucial pedestrian link to public transit, accommodating a daily influx of over 200,000 commuters, as well as numerous tourists and residents en route to sports and cultural events. The underground location of PATH offers pedestrians a refuge from the harsh winter weather, shielding them from the cold and snow, as well as providing respite from the summer heat and humidity.
Walking Tours in Toronto, Canada
Useful Travel Guides for Planning Your Trip
--- Traveler's Guide to Toronto: 15 Authentic Canadian Products to Bring Home
Toronto may well not be the whole Canada, but no Canada is whole without Toronto! By far too many things, quintessentially Canadian, associate with this bustling city, from Niagara Falls to Ice Hockey to... to mention but a few. To mention them all, check out the list of some not-to-be-missed... The Epic Toronto Pub Crawl
There is no better way to see Toronto's many different neighborhoods and get a literal taste of the Distillery District, the Esplanade, downtown, the Entertainment District and Yorkville. Plus you'll learn a little about the bar and get its highlights at your fingertips so you'll be in the...