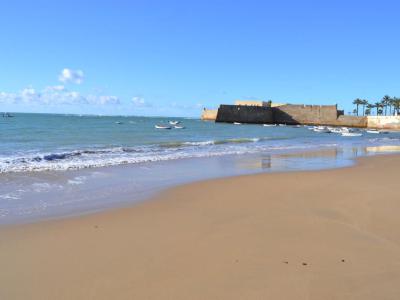 Playa de La Caleta (La Caleta Beach), Cadiz
(must see)
There are over 66 beaches around Cadiz, but La Caleta is the most beautiful beach in the city itself. It is regularly awarded the blue flag for the cleanliness and perfection of its facilities. It is located between the Castle of Santa Catalina (Castillo de Santa Catalina) and the Castle of San Sebastian (Castillo de San Sebastian). It is usually crowded. It has stunning sunsets.

Both castles are impressive, but the Spa of Our Lady of Palma and the Royal (Balneario de Nuestra Señora de La Palma y del Real) is the most attractive. Built in the early 20th century, the spa is an icon of Cadiz. It was once neglected and abandoned, but it is restored and currently is home to the Subaquatic Archeology Centre of the Andalusian Historical Institute.

La Caleta Beach was once the link between the two islands of ancient Gades. It has been used as a boat and ship landing since the Phoenicians first beached craft there. Rich archeological finds have been discovered. Many more remain hidden under the sands, for sure. Here is the place where Cadiz was born.

The allure of the beach has not been ignored by film producers. Scenes from "Alatriste," "Manolete" and 007 James Bond in "Die Another Day" were filmed at the beach of La Caleta. The scene of Halle Berry in a bikini and Pierce Brosnan sipping a Mojito at La Habana in Cuba was actually filmed at La Caleta in Cadiz.
Playa de La Caleta (La Caleta Beach) on Map
Walking Tours in Cadiz, Spain