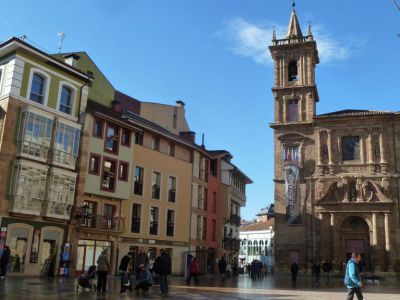 Plaza de la Constitución (Constitution Square), Oviedo
Constitution Square is one of the two most important squares of Oviedo. It is broad, full of life, and paved with stone. It is bordered by the 17th-century Town Hall and the Saint Isidor Church. The square was designed by architect Marcos de Velasco Aguero in 1659.

The name of the square has changed to suit political fashions over time. It has been known successively as City Square, Main Square, and Royal Square. In 1873 it became Republic Square as soon as King Amadeo I of Spain abdicated his throne.

The Town Hall in the Square is majestic in size. It was built using the medieval wall that wrapped around Oviedo. The central arch of the Hall, called Cimadevilla Arch, is used by pilgrims on their walk of the Pilgrim's Way to Santiago and the tomb of Saint James.

A 19th-century stone lion guards the arch. Elegant, Baroque Saint Isidor Church dominates the west side of the square. Consecrated in 1681, it raises its high, pointed bell tower next to the El Fontan Market.

The square is the nexus of several fascinating streets and byways. The visitors can see the remains of the city's medieval wall on Weight Street (Calle del Peso). Sun Street (Calle Sol) leads to Trascorrales Square. The Iron Street (Calle el Fierro) takes one to the El Fontan Market.
Plaza de la Constitución (Constitution Square) on Map
Walking Tours in Oviedo, Spain