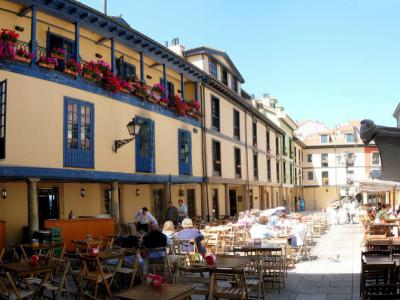 Plaza del Fontán (Fontan Square), Oviedo
(must see)
Fontan Square is a pleasant place in the middle of Oviedo's Old Town. The word "fontan" translates to source spring. From the beginning of the city of Oviedo, the source spring created a natural lagoon on the outskirts of town, supplying the area's water needs. It was soon converted into a recreation area for the town's nobility. While the nobles were entertaining themselves, the peasants came to the square to sell their goods.

The peasants brought dairy products, vegetables, cheeses, chickens, and what-have-you. Soon came craftsmen like farriers, basket makers, leather workers, etc. Everybody was using the pool. Things became unsanitary. In 1559 the spring was capped, and a laundry and fountain were installed. The plaza became the suburban commercial center of Oviedo.

Today the square is a bustling place of daily markets, historic buildings, and a fountain. It is a friendly place for shopping, tasting delicacies, and people-watching. Indoor shops, cafes, and restaurants surround the market square. The popular drink is cider, poured skillfully from overhead by a waiter.

Musical performances take place on weekends. There are bagpipes, flutes, and dancers dressed in traditional costumes, moving to the beat.
Plaza del Fontán (Fontan Square) on Map
Walking Tours in Oviedo, Spain