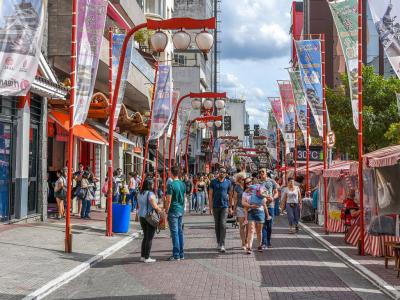 Praça da Liberdade (Liberty Square), Sao Paulo
The Liberty Square was known as Largo da Forca. In 1831, with the abdication of Emperor Pedro I of Brazil , the then Legal Course Fountain was named as "Fonte da Liberdade". This name, over time, started to designate the entire neighborhood around it.

Until the arrival of Japanese and Chinese immigrants, it housed bars and cinemas. After the arrival of immigrants, the Liberdade neighborhood was customized according to the culture of its new inhabitants, including the square, which gained oriental lighting, oriental temples and space to celebrate the Chinese New Year.

On weekends the Square houses The Liberdade Street Fair. This popular open air market began in 1975 and operates near the Liberdade Metro station. There is a number of attractions, festivals and other artistic events that occur all year along at the market.

The street market was created to emphasize all kind of handicraft works and artisanal wares from the Asian immigrants. In recent years artisans of other nationalities have begun selling their crafts at the market. These newcomers to the Street Fair are from Northeastern Brazil, India, and Taiwan. They sell candles, toiletries, leather products, sculptures and so on.

Booths selling traditional Asian foods like yakisoba and gyoza are common.
Praça da Liberdade (Liberty Square) on Map
Walking Tours in Sao Paulo, Brazil