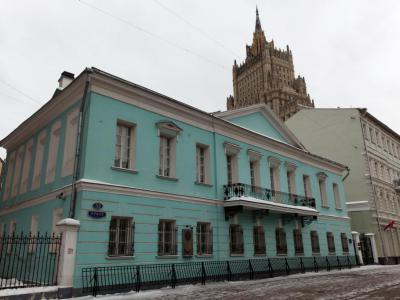 Pushkin Memorial Apartment, Moscow
The Alexander Pushkin memorial apartment on Arbat is one of the key cultural attractions in Moscow. Having brought his wife, Natalia Goncharova, to this mansion immediately after marrying her in the nearby Church of the Great Ascension on 18 February 1831, the icon of the Russian literature spent some of the happiest moments of his life here.

In preparation for the event, Pushkin rented this house for six months, from 23 January to 22 July 1831. On the eve of the wedding he invited his closest friends and acquaintances to a "stag party". The celebration continued the following day, and ten days later the Pushkins gave their first ball, which was highly praised by the attendees. The couple did not stay in the house until the end of the rental period and moved to Tsarskoye Selo, near St. Petersburg, on 15 May 1831.

As for the property itself, it belonged to the noble Khitrovo family and was built after the Moscow Fire of 1812. After the Revolution, in 1921 for several months it housed the District Amateur Theater of the Red Army. Then it was converted into communal apartments. The museum of Alexander Pushkin was established in 1972, and, after a large-scale restoration, opened to the public on 18 February 1986.

The exhibition space occupies two floors of the mansion. The first floor houses the permanent exhibition "Pushkin and Moscow", while the second one houses the memorial rooms of the Pushkin family. Although no authentic furniture has survived, the interiors of the rooms have been restored based on recollections of Pavel Vyazemsky, who often visited the family.

The memorial part of the exhibition contains photographs of friends and relatives of the poet, as well as the grand piano purchased by Sergei Rachmaninoff, which is used at the museum musical evenings. Inside the former dining room there is an office desk with a copy of one of Pushkin's poems. The room of Natalia Goncharova features the original table that has previously belonged to the poet's wife. The former bedrooms contain copies of Pushkin's handwritten sheets, including the works of "Eugene Onegin".
Pushkin Memorial Apartment on Map
Walking Tours in Moscow, Russia
Useful Travel Guides for Planning Your Trip
--- 16 Best Russian Things to Buy as Souvenirs in Moscow
While it's easier to list the riches Russia does not have, if there are such, the variety of authentic Russian stuff available in Moscow is truly mind-blowing. Some items are obscenely expensive, others - affordable, but both can make a memorable gift from the largest country in the world. To...