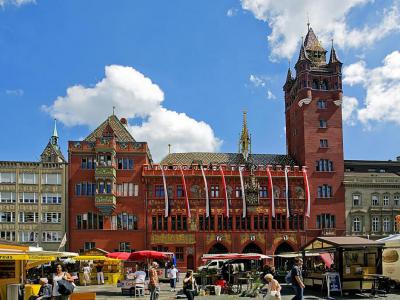 Rathaus (Town Hall), Basel
(must see)
Town Hall is home to the Basel government and parliament. This dramatic red brick building with its imposing tower is one of Basel's most attractive landmarks.

The current Town Hall was built between 1504 and 1513 to celebrate Basel's joining the Swiss Confederation. It replaced an older, less grand structure. While the building has undergone many renovations over the centuries, the three iconic arched entrances are from the initial construction.

Artist Hans Holbein decorated the Town Hall's Assembly Hall in 1521. Hans Holbein would later rise to fame as King Henry VIII's court painter.

The Gothic-style Front Chambers were added in the 1600s. The tower was added in the 1800s. At the time, its imposing height was controversial, and a public vote was called before construction was approved.

The exterior facade features depictions of historical and legendary figures. On the balcony, an inscription reminds visitors Here begins Swiss land. The crenellations are decorated with Basel's coats of arms.

The interior is richly decorated. The courtyard features a Roman statue representing Julius Caesar's contemporary Lucius Munatuis Plancus. Plancus founded Augusta Raurica, the nearby Roman city.

Many paintings depict a law and order theme. For example, the Roman goddess of Justice, Justitia, is depicted in a scene over the Front Chambers.

The Cantonal Parliament debates twice a month in the assembly hall. The Cantonal Government meets in Town Hall every Tuesday. The Chancellery and the Department of Presidental Affairs are also located in the Town Hall.

Guided tours in English are available every Saturday at 4:30 p.m.
Rathaus (Town Hall) on Map
Walking Tours in Basel, Switzerland