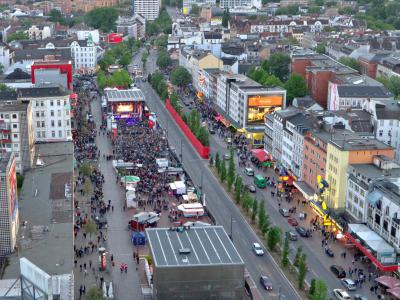 Reeperbahn (Rope Street), Hamburg
This street is named Rope Street because ropes for sailing ships were made here in the 17th and 18th centuries. The rope strands were laid down the street before being twisted into ropes.

Today, the street is filled with art galleries, theatres, cabarets, nightclubs, discos, bars, restaurants, strip clubs, brothels, and sex shops. The bars and theatres are busy and vibrant. The Panoptikum wax figure museum is considered a must-see. Visitors will see men and women walking the street in drag.

Rope Street is known as the heart of St. Pauli and the inspiration for St. Pauli's Girl, the famous German beer.

Non-X-rated activities include a popular music scene. Clubs such as Mojo Club, Große Freiheit 36, Gun Club, and Komet host international DJs.

Rope Street has helped launch many musical careers, such as The Jets and The Beatles. In addition, the yearly Reeperbahn Festival brings together international superstars. In 2021, 300 concerts were scheduled at 30 different locations.
Reeperbahn (Rope Street) on Map
Walking Tours in Hamburg, Germany